Almost no one has the perfect room for a pool table, with no furniture and wide open space out to four square walls. Fortunately, billiards is a game born of the indoors, and you'd be surprised just how viable your room can be with a little planning and creativity.
Use our planner graphic below to estimate your room's layout, and see our tips further down to maximize your space!
Pool Table Room Size Chart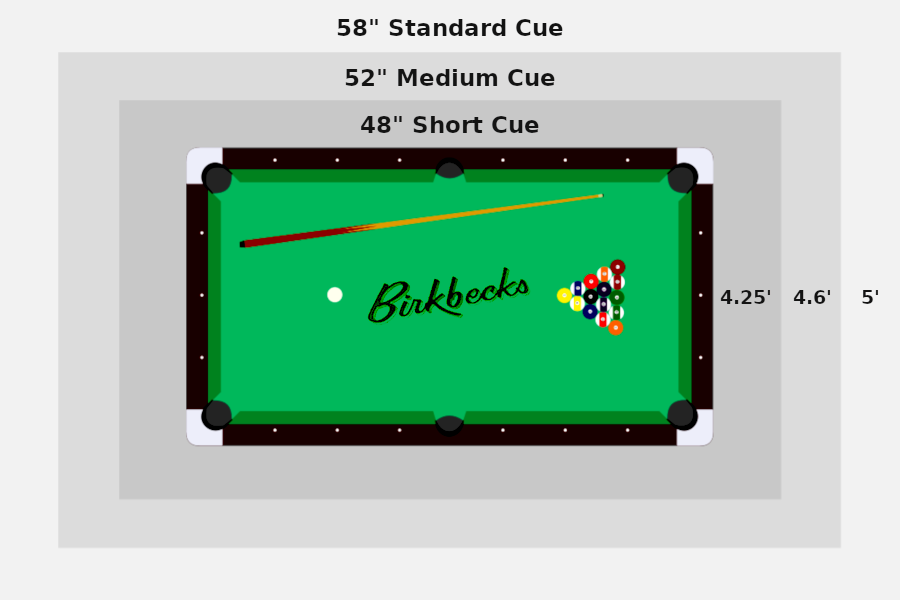 The most important two things to keep in mind are the size of your table, and the size of a standard cue. The above guide assumes a "worst-case scenario" shot – you're shooting from the edge of the rail, making a perfectly straight shot. Five feet around your table would give you clearance of around three inches behind you to actually stroke your cue in that scenario.
Most shots, of course, are not dead-on from the rail! You're shooting at an angle, deep into the table. This greatly reduces the space needed around the table for such a shot, and thus the "real" minimum room size for a pool table. Short cues make up the difference, and Birkbeck's always includes one with your table – as short as two feet depending on your specific room!
Pool Table Sizes Chart
Modern pool tables come in three sizes – 7′, 8′ and 9′, the latter of which is often colloquially referred to as "tournament size". If you've often played in pool halls, chances are you've been playing on 8′ tables. If you usually play in bars, you've likely been leveling up your skill on a 7′ table.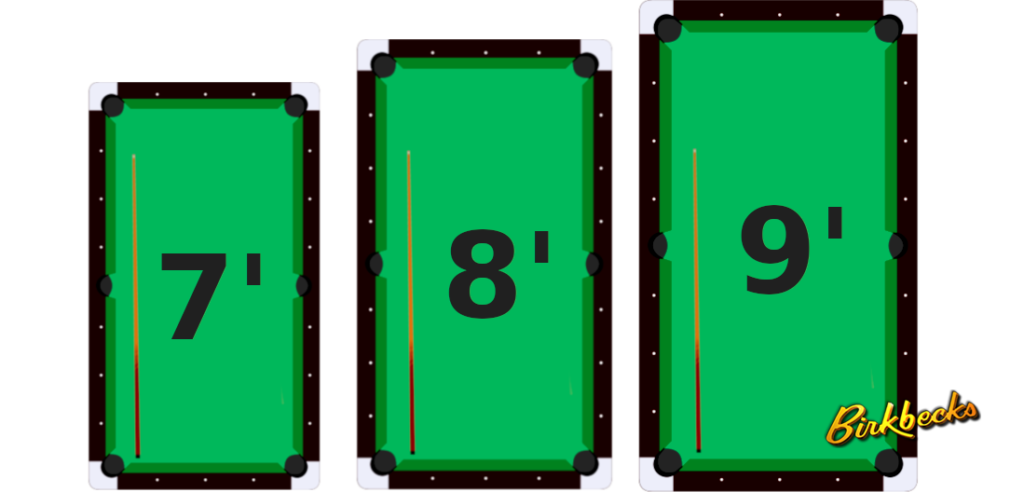 For more about pool table sizes, check out our comprehensive Ultimate Pool Table FAQ.
Room Sizing Tips
Don't fear a pole or a corner!
A pole is just a single point that could affect a small fraction of shots, but a wall has a much bigger effect. Always go closer to a pole or jutting corner to leave more room away from a wall! In fact, Tom Birkbeck's 9′ Gold Crown was placed right up against a pole in his basement, and the table had a "house rule" for ball-in-hand if you landed next to it!

Make a paper template!
A neat way to get a sense of how a table will work in your room is to tape together newspaper in the sizes in the chart above. Then, you can move the paper template around the room and measure from the "rails" to really understand your options!

Remember, some furniture is movable!
Don't fret your player's chairs, bar stools and standing cue racks – if the shooter needs to take a shot, sometimes a spectator needs to get up and slide a chair over!